Arizona Painting Services
Have you been searching for professional house painters in Mesa, AZ? Are you fed up with inexperienced painting contractors that won't call you back? Look no further: the experts at Prime Painting have served Mesa and the surrounding cities for years with custom solutions for residential and commercial painting projects.
Our team of licensed and insured painting contractors is the absolute best, which is why our house painting services are the preferred choice in Mesa. Contact Prime Painting at (480) 780-2942 and book your free quote today.
Our Gilbert House Painting Services

Your home's paint tells a story. A fresh, vibrant, clean paint job transforms a run-of-the-mill house into one that gets the whole block talking. Our professional painters know exactly how to elevate all of your interior and exterior spaces with high-quality paint finishes. Our interior house painting services in Gilbert include:
You can tell us your vision, and we'll create a design to meet your dreams.
We begin each interior painting project with careful preparation. Our team will lay down thick plastic coverings and drop cloths to protect your home from stray paint droplets. We use rollers indoors, instead of sprayers, for optimal control and the most even finishes.
Quality Exterior Painting Services In Mesa, AZ, From Prime Painting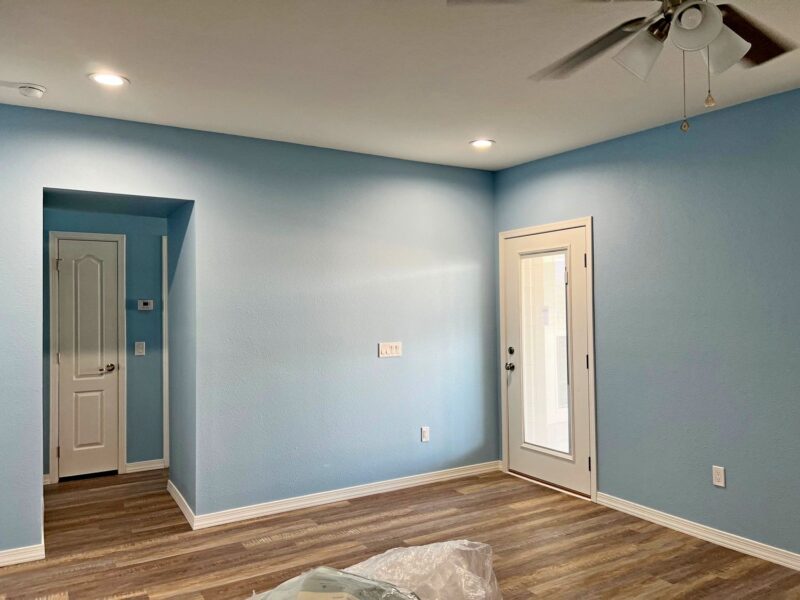 Our precise preparation techniques set us apart from other painting contractor companies. After preparing your space, we will repair any drywall holes, re-texture surfaces (if necessary), remove switch plates and outlet covers, and caulk all inside corners. After applying the prime and double finish coats, you'll enjoy a razor-sharp, clean finish with even color throughout.
We also offer the same expertise on exterior surfaces, including:
Our team can apply waterproof coatings, repair stucco, and power-wash surfaces for the best results. Regardless of your home's pre-paint condition, we will leave it flawless.
Top-Notch Commercial Painting In Gilbert
A painting project should never interrupt your business. We understand that commercial properties have busy schedules and can't shut down for days just for a new paint job. With over 100,000 square feet of commercial property experience, our team knows how to work around your busy schedule.
Our commercial painting in Gilbert covers:
We will provide a custom and comprehensive plan to meet your special needs. Whether you require exterior pressure washing and finishing, interior accent wall painting, or anything in between—we can deliver. Our final results will transform your business inside and out.
Rely On Our Commercial And Residential House Painting In Gilbert, AZ
When you pick our Prime Painting team, you select contractors who are:
Insured
Licensed
Certified
Trained
Experienced
The above qualifications allow us to deliver perfect results every time. We will provide an estimate and timeline upfront and stick to it. Our team will communicate with you throughout the process, so you can always stay in the loop.
If you need painters in Gilbert, AZ, look no further. At Prime Painting, we provide industry-leading commercial and residential painting solutions throughout the Gilbert area. Call us at Prime Painting today at (480) 780-2942 to schedule a consultation with our professional team.
Get In Touch With Us!
Related Posts